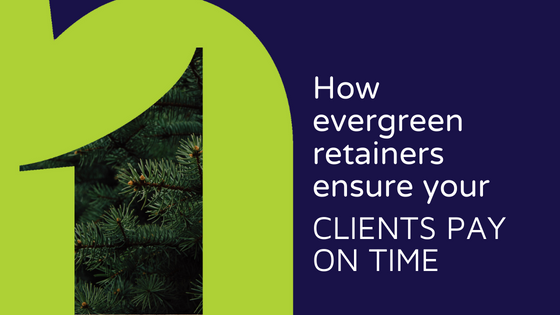 How evergreen retainers ensure your clients pay on time
Business, Finance, Law - 11/05/2023
Running a business on its own is hard enough without having to chase clients for outstanding invoices.
This is often solved through a lump sum deposit given in advance to retain a firm's services. However, this practice can fall apart the instant your services exceed the initial deposit. This could leave you or your firm out of pocket for the remainder of the work.
Evergreen retainers are just one way to ensure you're not losing money.
What is an evergreen retainer?
You and your client agree on the amount of cash your time is worth. This amount includes billable hours and what you intend to do for them that month. 
For most service-based businesses, this is usually achievable. However, plans can change, and time frames can be extended on a given project. This could leave you with more to do without being paid. 
An evergreen retainer differs by agreeing to pay a flat rate once your current deposit has reached a particular threshold.
For example, if your firm received a £2500 advanced retainer deposit, an evergreen retainer would obligate your client to pay in an extra £1500 should that deposit begin to dip below £1000. This ensures your cash flow reflects the amount of time and energy you're putting in.
How to manage retainer balances
While evergreen retainers sound like a surefire way to keep your firm in business, managing multiple clients as cash starts to dip can begin to become a hassle.
Luckily, there is software available that will automatically alert you or your clients when deposits have reached the minimum balance and need replenishing.
When to use evergreen retainers
Evergreen retainers might not always be appropriate, especially if you have a close relationship with your client. 
They're much more suited to clients who are either unable or would rather not pay a large lump sum retainer in advance. Having this form of payment can help ease the burden of legal costs while ensuring you're still getting paid.
For example, rather than agreeing on an advanced retainer deposit of £20,000, they're instead paying into a balance as it falls under a minimum of £4000.
With a greater understanding of what evergreen retainers can offer, your firm stands to benefit from more consistent cash flow. You'll also making payments more affordable and predictable for your clients.
For a more reliable way to know when your clients are paying what they owe, why not get in contact with us today? See about outsourcing your bookkeeping.
More from the Knowledge Hub
From information and help around all things accounts, to our thoughts and commentary on what's happening in the world of law and finance – you'll find it all here.
In a previous blog, we covered how smartening up your accounting system can give your […]
When it comes to law firms, the lawyers rightfully take centre stage. But behind the […]
Whilst we'd all like to think that we can manage every aspect of our business […]
Wireless transactions have quickly become the accepted mode of payment these days. With a quick […]