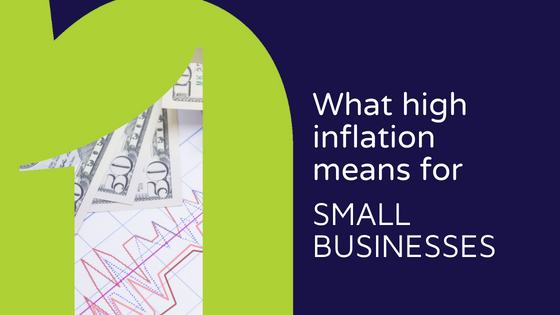 What high inflation means for small businesses
Business, Finance - 20/04/2023
Inflation, whether big or small, is constantly occurring. Its purpose is to naturally guide our country's economy, ensuring we're always spending. 
High inflation depends entirely on the market value of industries and products. This is affected by the ebbs and flows of domestic demand, as well as international relations and commerce.
During the cost of living crisis, consumers are finding it challenging to justify reckless spending on everyday items. This has directly impacted smaller businesses as they struggle to compete with large-scale retailers or suppliers while managing the cost of running a business.
Why is our inflation so high?
Inflation has been steadily increasing ever since the COVID-19 crisis. 
Once the pandemic had begun to quieten down, and consumers were allowed to spend again, demand increased. This has placed more pressure on small business owners and suppliers to meet that demand. 
On top of this, the lockdown made way for large-scale downsizing to occur throughout many industries. This resulted in an increase in wages for those deemed more valuable. Higher wages mean more operational costs, which are passed onto the customer. 
How does inflation affect small businesses?
Inflation has a domino effect on everything. If no one is buying, prices must increase to balance the scales.
If small businesses are forced to sink costs in order to meet near-impossible demand, they may be unable to pay their staff their agreed amount. This could result in lowering their contracted hours or lead to layoffs. 
With a smaller workforce available, operations will naturally have to scale down, leading to less profit coming in.
In the end, whatever product they get will have to be marked up considerably for businesses to make a net profit. These prices will have a negative impact on what customers can afford.
Effects of inflation on interests rates
To manage inflation, the Bank of England is set to gradually increase the country's base interest rate over the coming months, from its 2% target to 5%, making it more costly to borrow money.
The idea behind this is to combat inflation by encouraging consumers to save their money rather than spend it.
This will affect small businesses, who are likely still paying off state-backed loans accrued during the pandemic. 
This news has led many small business owners to take out more loans in order to cover daily operational costs. 
Dealing with inflation can be a nasty business and requires thorough financial planning while keeping your books in order. 
By outsourcing the job entirely to a bookkeeper, you could save yourself some massive headaches and regain control of your finances.
For help managing your accounts and cashiering services, why not get in touch with us today?
More from the Knowledge Hub
From information and help around all things accounts, to our thoughts and commentary on what's happening in the world of law and finance – you'll find it all here.
In a previous blog, we covered how smartening up your accounting system can give your […]
When it comes to law firms, the lawyers rightfully take centre stage. But behind the […]
Whilst we'd all like to think that we can manage every aspect of our business […]
Running a business on its own is hard enough without having to chase clients for […]